On Techlicious: The Best Chromebook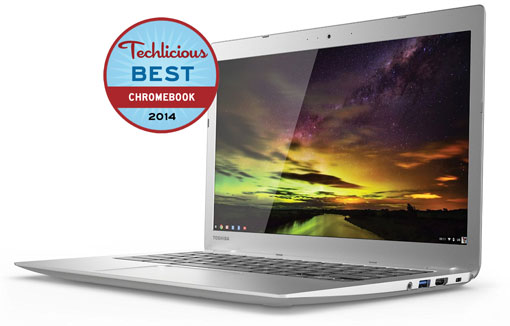 A great Chromebook is inexpensive, lightweight and slim, well-built with a good display and comfortable keyboard, and fast enough to handle multitasking without freezing up or slowing to a crawl. At first glance, several contenders meet at least some of these criteria. Fancier models like the Lenovo ThinkPad Yoga 11e Chromebook ($479) and the Google Chromebook Pixel ($1,299) include touchscreens, 360-degree hinges or other extras that may suit some high-end needs, but these features raise the price too high for a more general audience.
In the $200 to $400 range, three models rise to the top: the Dell Chromebook 11, the 13-inch Toshiba Chromebook 2 and the Acer Chromebook 13. Of these, my pick for the best is the Toshiba Chromebook 2, with the Dell in a very close second place.